Implementing Social Distancing in Warehouses
July 2, 2020
How can you practice social distancing in warehouses?
Practice zone picking
Communicate with staff
Create a one-way traffic scheme
Use visual markers
Divide workstations with partitions
Set aside an area for sanitation
Reduce the presence of staff in the facility
As COVID-19 continues to bring down global industries, there has been an emergence of practices to accommodate the "new normal" environment. With the easing of restrictions, many businesses have begun operations, albeit in limited capacity. Warehouses are also caught in the middle of everything. They need to stay in operation as more people turn towards online shopping avenues. Knowing this, it's important that social distancing in warehouses is practiced.
Warehouse staff are already risking their health and safety by just being present. The longer they continue to serve the public by working in their respective facilities, the more at risk they are for potential contamination of the virus. If you're the manager of a warehouse facility, it's your responsibility to keep your employees safe. Continue reading to learn more.
Practice zone picking
A great way to begin implementing social distancing measures in your own warehouse is by practicing zone picking. This picking method refers to the separation of stock-keeping units in different locations. The work of sorting the items is then done by a designated group of employees who are working in each different zone.
Through zone picking, you are limiting the number of individuals who are situated at any given time. Dividing them into groups diminishes physical contact, which contributes to the overall safety of the group.
Aside from this advantage, zone picking also makes processes more efficient as it also results in shorter travel time, when used in conjunction with an automated assembly line.
Communicate with staff
Before the announcement of any kind of restrictive quarantine, it was fairly common for warehouse operations to run at a business-as-usual pace. Despite this ubiquity, you still hold the responsibility of communicating with them the modifications that your warehouse would have to continue accommodating in the foreseeable future.
You need to be able to inform your entire staff of social distancing measures that will be practiced in the warehouse. This is so that they're in line with all of the changes and the individual measures they need to follow on their own. As a facility manager, make sure that you've drafted up health and safety guidelines that can be plastered and viewed by everyone as they navigate the facility.
Create a one-way traffic scheme
Before the implementation of a one-way traffic scheme in your warehouse, make sure that you've dedicated some time to studying the current flow of operations. In this way, you'll be able to spot opportunities where you can limit physical interaction and subsequently execute this technique.
Not all spots would have to follow this one-way traffic rule, but ensure you're taking note of the bottlenecks or hotspots where employees find themselves running into one another more often.
Use visual markers
Visual markers are an effective tool in reminding your employees how far apart they should stay from one another. It's important that visual cues are accompanied by ample lighting so that your employees may be able to view the markers.
Visual markers also serve as a good reminder for your employees to maintain a distance of at least six feet apart from one another, as they're moving about the area. If your warehouse doesn't really have good lighting, it's a good practice to keep reminding your staff to wear high-visibility clothing at all times.
Divide workstations with partitions
Another good social distancing practice that can be done in warehouses, is the installation of partitions, or dividers in the many different workstations in the facility. Like many of the social distancing solutions that can be implemented, partitions help prevent any potential instances of cross-contamination, as the employees continue to handle a variety of packages.
In the installation dividers, it's important that they're well-ventilated enough, to allow breathing room for your employees as they're working in an enclosed space.
Set aside an area for sanitation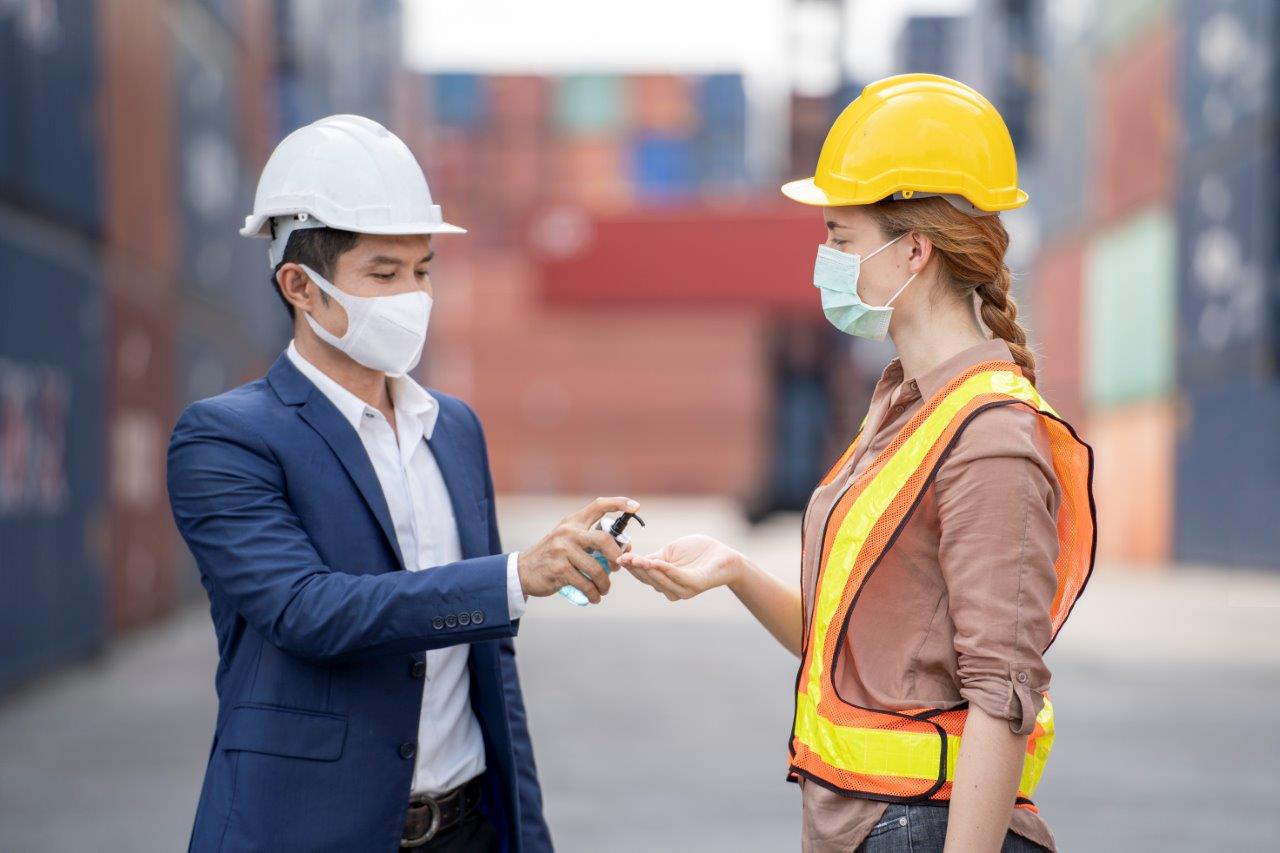 To further reiterate, cleanliness and hygiene are now more important than ever. You'd want to think of other creative solutions for your warehouse, such as setting aside a single area or location where most of the sanitation practices are going to take place.
This is the site where your employees would have to head first, as soon as they check-in the facility. Since your employees would be coming from the outside, the sanitation space provides an avenue where they can first clean themselves before they head to their respective workstations. This area should also contain storage for sanitation products and materials such as disinfectants, isopropyl alcohol, tissues, facemasks, hand sanitizers, and the like.
Reduce the presence of staff in the facility
As always, the best kind of safety measure when it comes to navigating a COVID-19 workforce landscape is to reduce the presence of staff in the facility.
This does not mean that the workers should be laid off — everyone around this time understands the difficulty of getting employed as many businesses are cost-cutting. As a compromise between this challenge and the need for you to keep your employees safe, having them work in shifts is more feasible. In this scenario, they are once again reducing their chances of potentially exposing themselves to the virus. The shifting arrangement means that they won't have to be present all the time in the warehouse. Furthermore, only those who really need to be physically present should be accorded all warehouse safety precautions and protective equipment, for as long as they're working.
Key Takeaway
Social distancing in warehouses can be achieved through measures such as zone picking, using visual markers, implementing a one-way traffic scheme, reducing staff presence in the facility, among many other solutions.
As your employees continue working during this unpredictable time, ensuring their health and safety should be two of your most pressing priorities. With the measures mentioned above, social distancing can easily be achieved, without sacrificing the efficiency of warehouse operations.