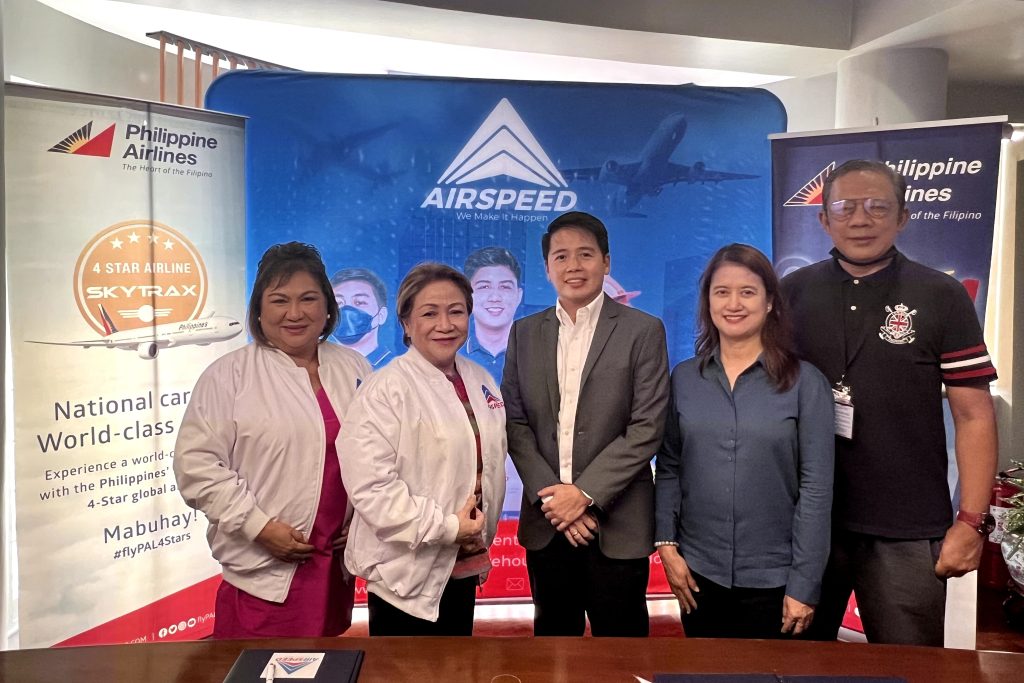 Airspeed and PAL Sign Agreement to Empower MSMEs
November 9, 2023
Airspeed International Corporation and Philippine Airlines (PAL) have recently forged a strategic partnership to "make it happen" and empower micro, small, and medium enterprises (MSMEs) in the Philippines with seamless delivery services.
The two air cargo players signed a formal partnership agreement in a ceremony attended by Airspeed Group of Companies Chairwoman and President Mrs. Rosemarie P. Rafael, and Philippine Airlines Inc. Vice President, Cargo Business, Mr. Jason T. Siy.
This collaboration between the growing corporate logistics company and the Philippine national flag carrier is geared towards offering reliable and efficient transportation solutions for businesses operating across the Philippine islands.
The partnership between Airspeed and PAL addresses MSMEs' unique logistical challenges. By combining their expertise and resources, both companies are committed to enabling MSMEs to effectively reach customers in various locations across the Philippines.
Airspeed specializes in providing logistics and delivery solutions that cater specifically to business needs. With its comprehensive range of services, including warehousing, inventory management, and last-mile delivery, Airspeed ensures MSMEs can streamline their supply chain and optimize operations. Through this partnership, MSMEs will benefit from Airspeed's expertise and infrastructure. This will enable them to enhance their delivery capabilities and meet customer demands.
With its extensive network and eight decades of experience in the aviation industry, PAL brings air transport capabilities to the partnership. This includes the flag carrier's versatile fleet of aircraft, ranging from inter-island turboprop aircraft to the most sophisticated long-range jetliners, deployed on PAL's well-established routes covering both major cities and remote areas in the Philippines. By leveraging PAL's air transport services, MSMEs will have access to a wider customer base. They will also be able to deliver their products to customers on time.
By combining PAL's extensive network and cargo capabilities with Airspeed's logistics expertise, MSMEs can benefit from streamlined operations, expanded market reach, and tailored solutions, enhancing logistical efficiency while supporting their overall growth and development.
Airspeed launched Kahanga-Hanga PH and Speedgifts through the Amazing Philippines Digital Economy Corporation (APDEC). These e-commerce platforms are Airspeed's advocacy programs aimed at helping MSMEs strengthen the Philippine economy. As Airspeed continues to expand its reach and explore new opportunities, it is poised to remain a frontrunner in the logistics sector. It is setting new standards for operational excellence and customer service.
Philippine Airlines serves 32 domestic destinations out of hubs in Manila, Cebu, Davao and Clark, a network that stretches from Basco, Batanes in the north to Tawi-Tawi in the south. In addition to main trunk routes linking top provincial destinations, the flag carrier in recent months opened new routes linking Cebu to Baguio and Borongan, and regular nonstop services between Manila and Perth, Australia.
___________________________________________________________________
Airspeed is a corporate logistics company focused in Freight Forwarding
Solutions, Customs Releasing, Customized Logistics, Warehousing and
Distribution. With its growing network, Airspeed aims to make it happen to
all of its stakeholders, as it has for over 37 years. Founded in 1985 as an
international air freight forwarder, Airspeed is now one of the country's most
trusted and fastest growing logistics brand serving the B2B and B2C market.
Airspeed can make it happen for you: Visit www.airspeed.ph, or call
(02) 8852-7328 to 37; Email us at info@airspeed.ph, and follow
www.facebook.com/Airspeedgroupofcompanies (Facebook).
Philippine Airlines (PAL) is the Philippines' flag carrier and only full-service network airline, as well as the first commercial airline in Asia. PAL's fleet of Boeing, Airbus, and De
Havilland aircraft operate out of hubs in Manila, Cebu, Clark, and Davao to 32 destinations in the Philippines and 39 destinations in Asia, North America, Australia, and the Middle East. Known for its hallmark heartwarming and gracious Filipino service, PAL also carries air cargo shipments and undertakes charter flights to boost Philippine tourism, support the economy and serve the travel needs of overseas Filipinos.